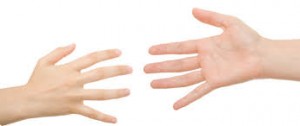 The other day I was on the telephone with one of my daughters.  We talked for a few minutes when suddenly she said, "Well Dad, I guess I had better go."
I responded by saying, "Already?  What is your hurry?"
She then said, "Dad-I can tell you are distracted."
Uh-oh.
I could not argue.  I was distracted.  Charlotte and I had just arrived home after a trip to Arkansas.  I was distracted the moment we walked into the house.  I apologized and said that I would love to talk with her.  She said, "Let's talk some other time."
I suspect many of us have experienced such conversations.  However, sometimes the failure to be fully present with others is more than a momentary occurrence.  Some people are just not emotionally present regardless of the circumstances.  This is just the way they function.  In other words, they live each day not really present in the moment they have right now.
What do we lose when we are not fully present?