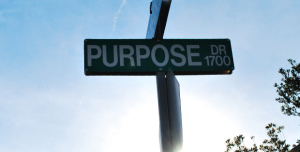 I know what it is to want to hide.
When I was in college, I hated this question: "What are you going to do when you grow up?"
Some of us seem to know even from middle school. Others seem to have no idea. I had no idea.
I went to the University of North Texas. They wanted me to declare a major. I chose sociology. That lasted for about a semester and then it was pre-law. Then finally it was business. I eventually graduated with a degree in business.
I came to a place in my junior year, spring semester, when I decided I would quit school. We had an English test the following day and I didn't study. You don't have to study for the test if you are going to quit that day.
I decided to drive to Dallas and look at other possibilities. I thought that maybe that day, I could get this sorted out.  I thought I might be a radio announcer and so visited a school that trained announcers.  I then visited a trade school and realized that wasn't for me either.  Finally, that same day, I went to the Human Resources office at the Dallas Police Department in downtown Dallas.
That hour, a conversation with a very wise African-American police sergeant convinced me to stay in college. "Son, why don't you just finish college?" he said.
I actually listened.