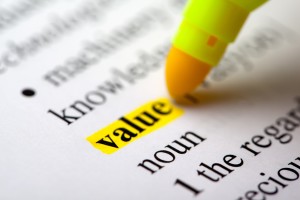 How do you know when a minister has great value?  Or, if you serve as a minister of a congregation you may wonder how much value you really have.  Perhaps there are times when you when you feel as if you have great value.  What factors have led you to come to that conclusion?  Perhaps there are other times when you feel alone, inadequate, and have little value as a minister.
Some believe that ministers have great value if one or more of the following factors are true:
1.  People are asking this person to speak at their congregations or at particular lectureships, seminars, etc.
2.  Congregations that are visible within our fellowship are asking this person to consider joining their ministry staff.
3.  A particular minister has a much larger salary compared to other ministers who serve in the same role.
4.  Many in social media quote this person and seem to rally around whatever this minister might say or do.
5.  A minister may be well known throughout a region or even the nation and perhaps have a "following."  This may be evident either through conversations at particular gatherings or conversation through social media.
6.  A minister who has served a smaller congregation begins preaching for a congregation that is highly visible.  Suddenly that minister may be perceived to be "important."