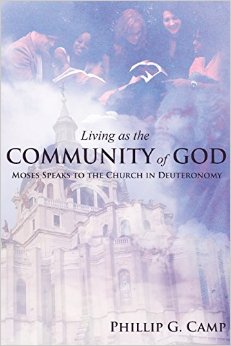 I read the first few chapters of the book, Living as the Community of God.  I was hooked.
The book is basically a commentary on Deuteronomy.  Yet, it is so much more.  I opened the book and read "Introduction: Why Bother with Deuteronomy." The author Phillip Camp, Associate Professor of Bible in the Hazelip School of Theology at Lipscomb University, gives the reader ten reasons why the book matters for a Christian. For example:
(1)  It shows what it means to be in a faithful relationship with God and invites us into such a relationship.
(2)  It highlights the grace of God for his people and for all people.
(3)  It teaches a great deal about the nature of God: his love, mercy, justice, righteousness, faithfulness, etc.
The list continues.  I was impressed each one of these reasons.  The reasons alone made me want to read the book.
What I especially appreciated about the book is that each chapter was well organized and well written.  Each chapter had two sections that were particularly interesting.  One section was called "The God of the Community."  This section discussed God, and the theology of Deuteronomy and the Bible.